Elegancka bluzka damska Japan Style B2589
Dokładne wymiary sprzedawanego towaru: długość całkowita 56cm, biust 80-100 cm. Odzież Japan Style to odzież dla Ciebie. Kliknij i zapoznaj się ze szczegółowym opisem tego produktu.
Dane przedmiotu sprzedaży:
- Oferowany towar to B2589
- Rozmiar "free size"- w tłumaczeniu rozmiar wolny, uniwersalny. Przy zakupie należy sugerować się podpunktem "b" znajdującym się kilka linijek poniżej. Zapraszamy także do korzystania z tabeli rozmiarów, znajdującej się na naszej stronie w prawym menu.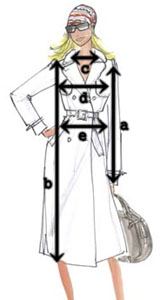 - Kolor szary (taki jak na zdjęciach). Prosimy pamiętać, że monitory mogą różnie oddawać rzeczywiste kolory.
- Kod produktu B2589
- Materiał dominujący bawełna/szyfon


Wymiary

- Długość całkowita (wymiar "b"): 56 cm
- Obwód biustu (wymiar "d"): 80-100 cm



Modne tuniki

Dziękujemy za zainteresowanie naszą ofertą. Nasze tuniki tworzone są przez różnych projektantów dzięki czemu mają swój niepowtarzalny charakter. Wyjątkowe jest to, iż charakteryzują się niskimi cenami w porównaniu do innych. Nowe tuniki wieczorowe można u nas otrzymać w cenach niższych niż kiedykolwiek. Proponujemy dzianinowe propozycje na zimę jak i przewiewne na lato, wszystko jak zawsze w całej gamie kolorów- od czarnego przez słonecznikowy, khaki, morski po purpurowy i ecru. Wszystkie modele odzieży podlegają podwójnej kontroli jakości u naszych azjatyckich partnerów jak i przez naszych pracowników w Toruniu dzięki czemu możemy zapewnić naszym klientom rewelacyjną jakość towarów. Zdecydowana większość artykułów sygnowana jest naszą własną marką.


Świadomość społeczna w naszym sklepie z odzieżą
Jesteśmy firmą, która jest odpowiedzialna społecznie. Nie akceptujemy zachowań budzących wątpliwości prawne. Przestrzegamy praw konsumenta, każdego klienta traktujemy tak samo -tego, który jest z jakiś względów niezadowolony jak i również tego, który sypie z rękawa komplementami. Nie tolerujemy wyzysku dlatego starannie dobieramy fabryki, z którymi wchodzimy we współpracę. Szukając wsparcia dla jednego z Toruńskich Domów Dziecka wspieramy działania charytatywne. Mamy nadzieję, że działalność na rzecz dzieci w naszej firmie nabierze w najbliższych latach rozgłosu a wraz z naszymi partnerami będziemy w stanie udzielić jeszcze więcej pomocy dla dzieci. Regulamin naszego sklepu, jest łatwy i przyswajalny. Nie ma w nim ani jednego podchwytliwego podpunktu, który wskazywałby na to iż zakupy mogą przebiegać w sposób odmienny niż to opisujemy. To wszystko mamy nadzieję, zachęci Państwa do zakupów właśnie u nas.


Zapraszamy do zakupów!