Czerwony sweter damski w paski Japan Style SW2998
Dokładne wymiary sprzedawanego towaru: długość rękawa 11cm, długość całkowita 74cm, biust 80-92cm. Odzież Japan Style to odzież dla Ciebie. Kliknij i zapoznaj się ze szczegółowym opisem tego produktu.
Dane przedmiotu sprzedaży:
- Oferowany towar to czerwony sweter damski w paski
- Rozmiar "free size"- w tłumaczeniu rozmiar wolny, uniwersalny. Przy zakupie należy sugerować się podpunktem "b" znajdującym się kilka linijek poniżej. Zapraszamy także do korzystania z tabeli rozmiarów, znajdującej się na naszej stronie w prawym menu.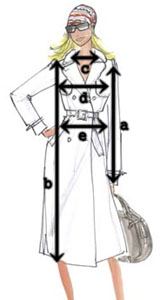 - Kolor czerwony (taki jak na zdjęciach). Prosimy pamiętać, że monitory mogą różnie oddawać rzeczywiste kolory.
- Kod produktu SW2998
- Materiał dominujący bawełna


Wymiary:
- Długość rękawa(wymiar "a"): 11 cm
- Długość całkowita (wymiar "b"): 74 cm
- Szerokość ramion (wymiar "c"): 37 cm
- Obwód biustu (wymiar "d"): 80-92 cm


Modne swetry w naszym sklepie
Serdecznie dziękujemy za zainteresowanie naszą ofertą. Zapewniamy, że swetry z JapanStyle24.pl są jedyne w swoim rodzaju. Wyjątkowe dla naszych swetrów jest to iż charakteryzują się bardzo niskimi cenami w porównaniu do pozostałych sklepów. Nowe swetry kaszmirowe można u nas zakupić w cenach niższych niż kiedykolwiek. Oferujemy ciepłe propozycje na zimę jak i przewiewne na lato, wszystko jak zawsze w całej gamie kolorów- od białego przez niebieski, zielony, różowy po czerwony brązowy i czarny. Cała odzież w naszym sklepie przechodzi podwójnej kontroli jakości u naszych producentów w Azji jak i przez naszych pracowników w Toruniu dzięki czemu jesteśmy w stanie zaoferować naszym klientom bardzo dobrą jakość produktów. Zdecydowana większość artykułów sygnowana jest naszą własną marką.


Doświadczenie w sprzedaży odzieży i galanterii damskiej
Czujemy się wyróżnieni, że zaopatrujemy polski rynek w najnowsze, azjatyckie, modowe hity.To dzięki tysiącom usatysfakcjonowanych klientów jesteśmy na tyle dużą firmą, że nie straszne są nam inne nawet te najbardziej znane marki odzieżowe. Byliśmy w stanie zapewnić sobie doskonałą pozycję u naszych producentów ale mamy również zapewnione konkurencyjne umowy z firmami kurierskimi doręczającymi towar do klientów. Sytuacja, w której kupujący zamawia w czwartek po południu sukienkę na piątkową imprezę nie jest dla nas niczym dziwnym, ponadto - potrafimy doręczyć taki towar nawet w niecałą dobę! Czy jest to możliwe w innych sklepach internetowych?
Nasz oddział sprzedający na Allegro był doceniany przez wiele lat w programie "Super Sprzedawca" a aktualnie cieszy się z możliwości uczestnictwa w programie "Standard Allegro", programie, którego surowe normy pozwalają na zakwalifikowanie się wyłącznie najlepszym. Wspólnie działamy z wieloma porównywarkami cen, portalami tematycznymi jak i osobami blogującymi. Mamy konto na Facebooku, gdzie polubiło nas kilka tysięcy użytkowników z całej Polski, tam też realizujemy liczne konkursy i zabawy z nagrodami.


Zachęcamy do zakupów!